The Buddy Program: Building Resilience
People who have strong relationships within their community (family, friends, school and clubs/interest groups) are more resilient to disappointment. To be resilient a young person must feel connected either amongst peers, at home, at school or in their own mind (positive self-image). An important part of building resilience is to foster social networks (e.g. buddies).
At Aranda Primary School the Buddy Program:
embeds the foundations of the YCDI program
promotes a sense of community and belonging in the school
develops social networks (Protective Behaviours)
builds resilience
promotes acceptance of others
builds self esteem
provides social and academic benefits for students
provides mentoring opportunities
provides leadership opportunities
promotes cross gender and cross age friendships
fosters a sense of fun and enjoyment in learning.
Organisation of the Buddy Program
At Preschool
To promote a smooth transition from preschool to school, the Buddy Program establishes social networks by introducing Aranda Preschool children to their Year 4 school buddies at Year 4 visits to the preschool in Term 3, and with buddy activities linked to their Kindergarten orientation visits in Term 4.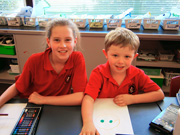 At School
Kindergarten and year 1 buddy with Year 5/6.
Year 6 also assumes leadership roles and responsibilities across the school.
Children may keep the same buddy for the year, or may change with each term or semester. Buddy sessions maybe weekly or fortnightly.
Buddy Program Activities
All activities provide opportunities to develop Confidence, Persistence, Organisation and Resilience.
Shared reading
Board games
Playground games
Gross motor activities
Shared dance
Parachute games
Technology/construction
Puppetry
Computer support/mentoring
Special celebrations eg Harmony Day, French Day
Shared lunch
Excursions
Gardening activities
Mini Fete
Shared attendance at performances
Shared assembly items
Shared newsletter reports
Buddy class teacher exchanges
Birthday cards for buddies
Multiple Intelligences activities
Thinking skills.